OK so you are in a state of despair. You are suspecting he is cheating on you but you want hard evidence to back up your suspicions. Here we present to you one surefire way (if you follow our instructions carefully) that makes it possible to:

Track his location without him knowing (finding out)
Without the possibilities of HIDDEN CHARGES turning up on the phone bill that is in HIS name
Without having to put something on his phone (like installing or downloading a tracking app)
Without accidentally getting caught at tracking, which would make matters even WORSE
This guide was inspired by one of our readers and contributors to our comment section who was looking for help with tracking that meets the above requirements.
Instead of worrying about accessing your partner's phone, have you thought of planting one of your own, that you can access without issue?
The answer is concealing a tracker in his car!
BEWARE of the laws regarding tracking covertly
Always consider your country's or state's law before attempting any type of spying on someone without their knowledge (unless it's your underaged children). Do it at your own risk.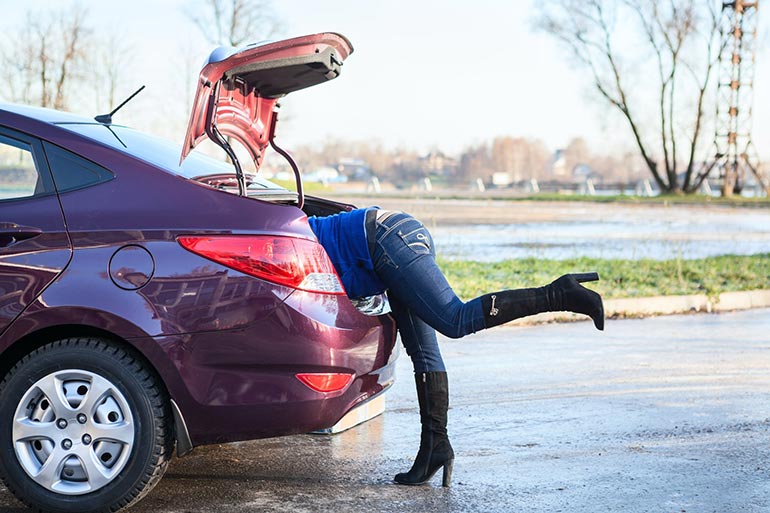 10 steps to tracking your husband's car using an extra smartphone
This is a creative way and tested way that people have tried and gotten away with. It is also the least techy way compared to other methods, but it still requires a bit of work.
Things you'll need
Access to the car he is driving
An extra smartphone (buy used for less than $100)
A new prepaid SIM card (ca $25)
A smartphone tracking app (Free)
A high-capacity external battery bank (ca $100) (recommended)
Find an old smartphone or buy a used one online. For example on eBay.com you can find many in the $100 range. Remember the smaller the better (consumes less battery and you have more space for better concealing it). As you know, Android phones are cheaper than Apple products.

Old Android smartphones are the cheapest

Update the software to the latest version.

Buy a prepaid SIM card that has a data-plan. The cheapest one should do, as long the telecom provider has a good coverage in the area you want to do tracking.

Install and activate your desired phone tracking app (we have reviewed six apps).

Enable "Location services" on the phone (iPhone/Android) and on the app.
Turn all possible sounds off (mute your phone) so it doesn't make any noise at all (no vibrations either). For example, getting a text message from your network provider, or making an accidental call to the phone, or even receiving a sound notification when your battery is running low are all possible causes for worry.

How to put your Android phone to mute

(Strongly Recommended) Purchase a high-capacity external battery bank (you'll thank me later) and connect it before you put it in the car. You can find some good ones on Amazon.com. As you probably know, batteries on smartphones deplete very quickly; even faster on used phones. Some of these power banks (especially the bulkier ones) can keep your phone working for weeks on end without needing to be taken out for a re-charge. Otherwise without it you will have to get into his car every few days for recharging the device. This increases your chances for getting caught.

High-capacity external power bank

(Optional) Install an app such as Potential that alerts you when the battery level reaches, lets say, 30% (you can set it up to any particular level). This will let you prepare to get the phone and the battery pack back to charge them.
Conceal the smartphone smartly in your car first, and test it out for a few days. Give it a call, see if it rings, see how long the batteries hold up. Prepare before you plan to plant it in his car (see the list below on places where you can conceal it).
Also, do not forget to passcode lock it – in the unlikely event (because you have followed all our advice carefully) that he finds it and tries to get in and figure out who is behind it.
Places to conceal the smartphone and battery pack in the vehicle
The trunk of the car. If he rarely uses it, and/or it has a thick carpet to hide under it, then this would be the ideal place.
Underneath the middle/center console. Lift it out (use force if necessary). There are usually a lot of crevices under it, probably enough to put the phone there.

If there is enough space, and it's sturdy, hide it behind the glove compartment; there are all sorts of crevices in there. If the phone is bulky and the battery pack even bigger, this place won't work that well.
Be creative! Every vehicle is unique. Try to find sure places you can hide where he would never look. Make sure it's also sturdy, so it doesn't move around making noise.
Is the vehicle registered in his name?
Keep in mind; you can put a tracker on anything you own and track it. So, if you are going through a divorce, and your ex has a vehicle in both of your names, you are within your rights to use a smartphone as a tracking device on it. On the contrary, if your divorce is finalized, and you no longer have a car in both of your names, then you might be violating the law if you are tracking the vehicle.
Enable Geofence feature to know when he is in a certain location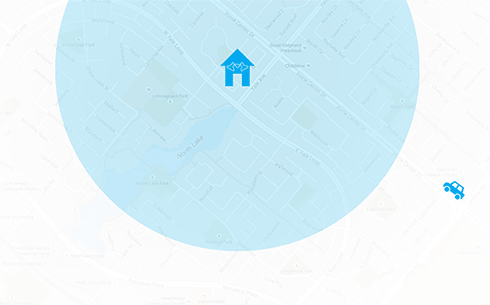 Enable the geofencing feature to be notified when your boyfriend or husband gets out of a certain area or gets in a certain area. In Find my iPhone / Find Friends apps, simply tap on the "Notify me", choose "Arrives" and select location you want to cover.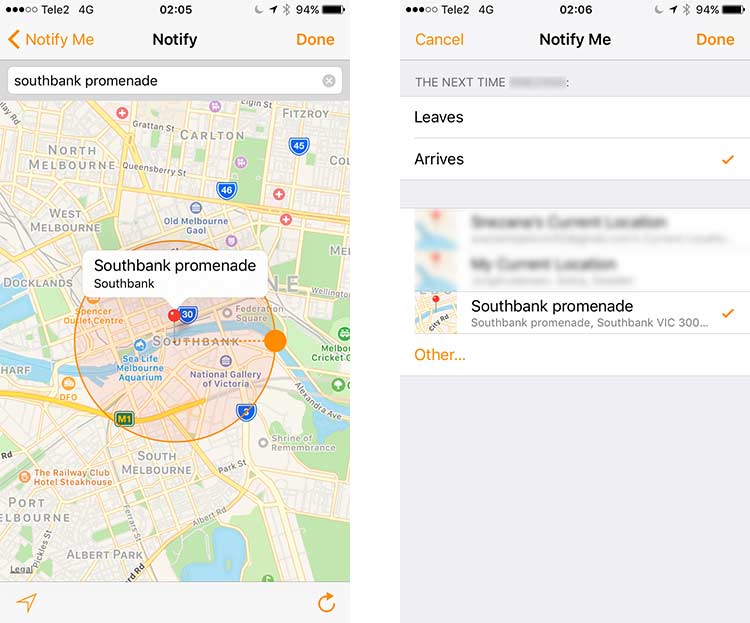 For example, you are suspecting he is visiting a lover who lives on the other side of town; well simply add a geofence in that area, and be informed (via push notifications on your phone) when he enters it.

Take a screenshot to have proof later on that he was indeed in the area.
Have you tried planting a phone in a car? Did it work? Or have you figured out a better way to track without him/her knowing? Let us know in the comments below!