With the rise of social networks, sharing information among friends and family has become a simple fact of everyday life. Location sharing, however, should be limited only to the most trusted members of your circle. Thankfully, there is a wide selection of FREE apps that allow you to share your location with your friends on your own terms as well as for them to share it with you.
Reasons to use it
Say that you have arranged to meet up with your friends for a coffee. Instead of texting everyone to know their ETA, you can simply track their location on a map. As another example, your friend might have to travel through a bad neighborhood and you want to ensure that they have actually reached home safely before you can rest.
Or perhaps your daughter is traveling the world and is flexible with the countries she will visit. Instead of bugging her by making expensive international calls or texting her everyday asking her where she is now, you can see on a map where her last location was (where she had WiFi access the last time).
Please note
This article reviews apps where consent (permission) from the person you want to track is strictly required. To track or spy on someone covertly (in secret) WITHOUT their consent refer to "How to Track Your Partner without Them Knowing" article.
Find My Friends: Location-sharing for friends & families with iPhones/iPads
One of the most popular apps of its kind, Find My Friends has been developed exclusively by Apple for its iOS devices only. Even better, it has been a native app since iOS 9. In the off-chance that you are running a previous iOS version, you can still download the app for free in the App Store.
Find My Friends is a very simple app that works very effectively as it uses Apple's own services for location-tracking purposes. To use the app, you begin by adding your trusted friends. As a side note, your friends will also need to be using Find My Friends otherwise the app cannot work.
The app uses a request-based approach for location sharing. You will need to get their consent by sending them an invitation, which will be sent via email via the iCloud service. What this means essentially is that when you wish to know a friend's location, you will need to send them a request.
Your friend must then accept that request before their location can be shared with you. Once done, you won't have to ask for it again, however, your friend may choose to stop sharing his or her location with you at anytime. This had to be done both ways as sharing your own location does not automatically make the other person share their location too.
Because of its tight integration with Apple services, Find My Friends allows you to see where your friends are on a map, on iCloud.com, or in a list inside the app. The text-based lists will simply tell you if your friends are "home" or at "work", for instance.
Trusted Contacts: Google's answer to Find My Friends (only Android)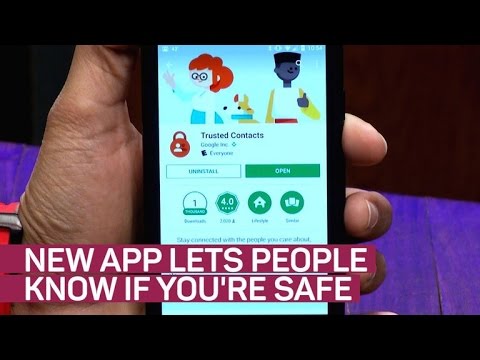 Google's answer to Find My Friends is actually a very similar app. Until 2013, Google offered a service called Google Latitude which allows friends to share their locations on a common map. It took almost three years for Google to fill that gap but Trusted Contacts for Android only is a great app that should be more than enough for people who still lament the loss of Latitude.
At first glance, Trusted Contacts works in a very similar way. First and foremost, users must add the people they trust the most. Then, they can choose to share their locations whenever they want and can even share messages among themselves.
However, the app has a unique feature that aims to ensure the safety of your closest friends. Whenever you send a location request to your friends, they can choose to either approve that request and share their location or deny it. Both options will let you know that your friends are safe and sound.
If your friends do not respond within five minutes, the app will automatically share their location with you. As you might not want to automatically share your location with just anybody, you should only ever add people you really trust to the app and ensure that you respond to location requests one way or the other.
Glympse: Perfect for sharing your ETA when you are running late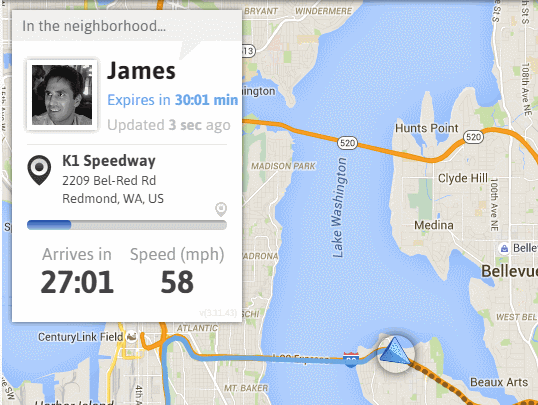 Another well-known app in the location-sharing market, Glympse is available for both iOS, Android and Windows devices. In simple terms, Glympse is the Snapchat of location sharing. It allows you to share your location with anyone via links that automatically expire after a while.
The greatest thing about Glympse is that it does not require to be installed on the other users' devices. Glympse links can be viewed from any web-enabled device. If you do have the app, you can also share your own location and view your friends' movements in real-time in a dynamic map.
The benefits of using the app come mostly from the private groups. Users can create circles of trusted friends in an invite-only group. That way, you can view everyone's location at the same time or send individual requests. This feature is great for coordinating nights out and making sure that one friend who is always late will not halt the group again.
Wave App: Perfect for meet-ups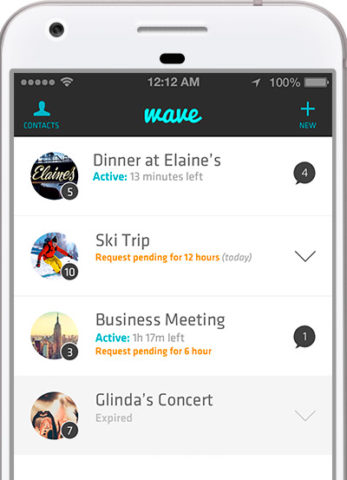 Available in more than 150 countries for both iOS and Android, Wave is an app that can be used practically everywhere. Its premise and functionality are both very simple. After you install the app, you simply have to provide it with your phone number so that it can create a unique identifier.
Then, you can invite all your friends over. A wave request can be sent to up to 10 people and anyone who accepts will be automatically placed in a private map where their exact location will be shared in real-time.
Waves automatically expire after a short time but users can choose to add more time or end it any time they choose. They can also send texts and set up new meeting points.
The privacy afforded by the app's controls and its sheer simplicity make it great for simply meeting up with people or sharing your location with worried friends.
Familonet: Works for both network of friends on iPhones & Android phones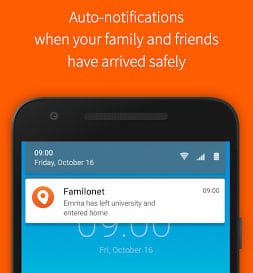 As the name suggests, this app was originally designed for families. However, there is nothing stopping you from using it with a close group of friends instead. Available for both iOS and Android, the app allows you to create a small network of friends that will all be visible in a real-time map.
With geofenced locations, you can also be instantly notified whenever your friends or loved ones (read kids) reach a specified location. This app is simply fantastic for excursions as you can make sure that everybody is on the same page at all times. For example, your friends will know when you have reached the café you agreed to meet at without texting you.
The ability to share pictures and send messages is also a nice bonus. The app might be a bit more intrusive than most, as it is mostly aimed at families and small children, but using it sparingly might be a great idea for some groups of friends.
Foursquare's Swarm: More of a fun location-checking app than a tracking app
For a little while, it seemed like Foursquare had cornered the market on real-time location sharing or "lifelogging" as the company likes to call it. However, the main app slowly became bloated and Foursquare decided to move its check-in features to a separate app instead.
Thus, Swarm for Android and iOS was born. This is not a locating-tracking app but rather a locating-checking one. It allows you to check in to any location so that your friends always know what you are up to. Think of it as a location-based social network where you can share pictures, comments, and keep track of your movements in a single interface.
Swarm also has a gamified side to it. For instance, you can reach multiple milestones such as meeting up with a certain friend for X amount of times. In addition to that, you can become "Mayor" of a place if you check in more than other people. This way, no one will have to ask if you go there often ever again.
Finally, friends can share their locations with each other and instantly check if they are nearby. Though it is not as comprehensive as other location sharing apps, Swarm is probably the most fun alternative, particularly if you are the kind of person to enjoy regular days and nights out.