L ocate your phone with Apple's free iPhone finder called "Find my iPhone", now re-branded to, just, "Find my". Now even when the iPhone has no WiFi or mobile connection.
Lost your phone and your friend? The good news is there WILL be soon one single Apple app to help you find them.
Apple announced on June 2019 that it's combining the services formerly known as Find My iPhone and Find My Friends into one standalone app: Find My.
Aside from already locating your iPhone via GPS, WiFi & your mobile network, and letting you know the pin-point location on a map, the app can ALSO now support to locate offline (not to be confused with iPhone TURNED OFF) The secret is that Apple devices using Bluetooth beacons from other Apple devices nearby – increase your chances to recover your iPhone or iPad or Mac. And, due to privacy concerns, according to Apple it's all encrypted and anonymous.
Find My works similarly to the Find My iPhone and Find My Friends apps that were previously available, but what sets it apart from the previous apps is that it can find your lost Apple devices even when you don't have a WiFi or mobile network coverage.
For more info on the new features of "Find my" app see the end of this post.
What is "Find my iPhone"/"Find my"?
If your iPhone (or iPad, Mac, AirPods etc) is stolen or lost, Apple offers a free tool to help you get it back. Even if you can't get your phone back, you can use the tool to prevent a thief from obtaining your personal data. This iPhone recovery tool is called Find My iPhone. It's part of iCloud and uses the phone's GPS and internet connection to locate it on a map and perform some actions to control it remotely.
How to use 'Find My iPhone' to find or erase your device
The Find My iPhone service must be set up on your device BEFORE it is lost or stolen. Luckily when you first used your iPhone you chose the default settings to have it enabled.
After the service is set up, there are two methods to locate a phone: use the iCloud website or the Find My iPhone app (open it on any iOS device to track your phone like iPad, Mac or your friends/family's iPhone).
Using Find My iPhone on iCloud.com:
Visit iCloud.com and log in with the same Apple ID that's logged in to the iPhone.
Select Find iPhone to search for all the devices that are logged in with your Apple ID.

The app will automatically zoom in on the map showing a green dot on the device that you are trying to locate it. Zoom in or out of the map, and view it like in Google Maps.
To locate a specific device instead of displaying all your devices on the map, select All Devices.

Select the device on the map, then choose the info icon to display a window with additional options.
If you believe your iPhone is in your home or nearby, by clicking on Play Sound you will have it make a very loud noise so you can locate it.

To remotely lock the device screen and set a passcode (even if you haven't set up a passcode on the device), select Lost Mode. This prevents another person from using the device and accessing your personal data.

Tip! Use Lost Mode to write a message that displays on the device screen. For example, enter a phone number so that the person who has the device can contact you.

To wipe your iPhone remotely if you don't think you'll get the phone back, choose Erase iPhone. Erasing the data on the phone prevents you from finding it in the future with Find My iPhone.

If you think your device is on the move, select the green dot on the map that represents your phone and, in the window that appears, select the rounded arrow to update its location using the latest GPS data.

What to do if your iPhone is offline?
Even if Find My iPhone is set up, your device may not show up on the map. Reasons this could happen include that the device:
Is turned off or out of battery.
Isn't connected to the internet (New feature supports this – see below)
Has Location Services disabled.
If Find My iPhone isn't working, the three options: Play Sound, Lost Mode, and Erase iPhone are always available. Use whichever you want so that the next time the device connects to the internet, the option you chose is performed.
New (June 2019)! No WiFi or internet on your lost/stolen phone? Now you can locate your Apple Devices when they are OFFLINE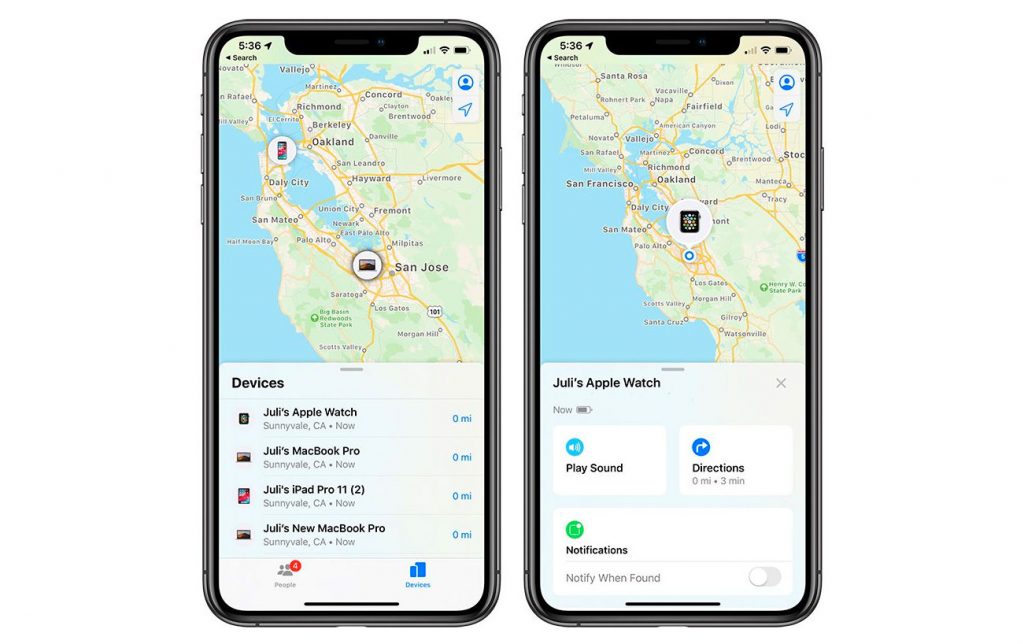 One of the headline features of iOS 13 is a new Find My option that lets your lost devices be located even when not connected to WiFi or mobile network by leveraging Bluetooth and proximity to other nearby Apple devices.
When your lost device is offline but close to another device, it's able to connect to that other device over Bluetooth and relay its location. That means that your devices are more trackable than ever, and there's a BETTER CHANCE you can find a device that's been lost.
Tracking a device in this way requires Bluetooth enabled because the location is shared with another device using Bluetooth. This reminds us of the Tile service which works on this basis by crowd-supported networks.
Turning off Bluetooth or power makes your device untrackable, but if it's on, has Bluetooth, and is near another Apple device, it will potentially be trackable even if it can't connect to WiFi or mobile connection (3G/4G/5G).
In testing, setting an iPad into Airplane mode and enabling Bluetooth continued to allow the iPad to be tracked thanks to another nearby iPhone, but turning off Bluetooth prevented it from being found even from a device-to-device connection.
How to turn off Find my iPhone location?
The following steps show you how you can disable location sharing using the Find My app if you are concerned that someone may have access to your location. Note that "Location Not Available" appears below your name in Find My on the devices of people following you, which makes it look as though your device is turned off, in airplane mode, or just offline.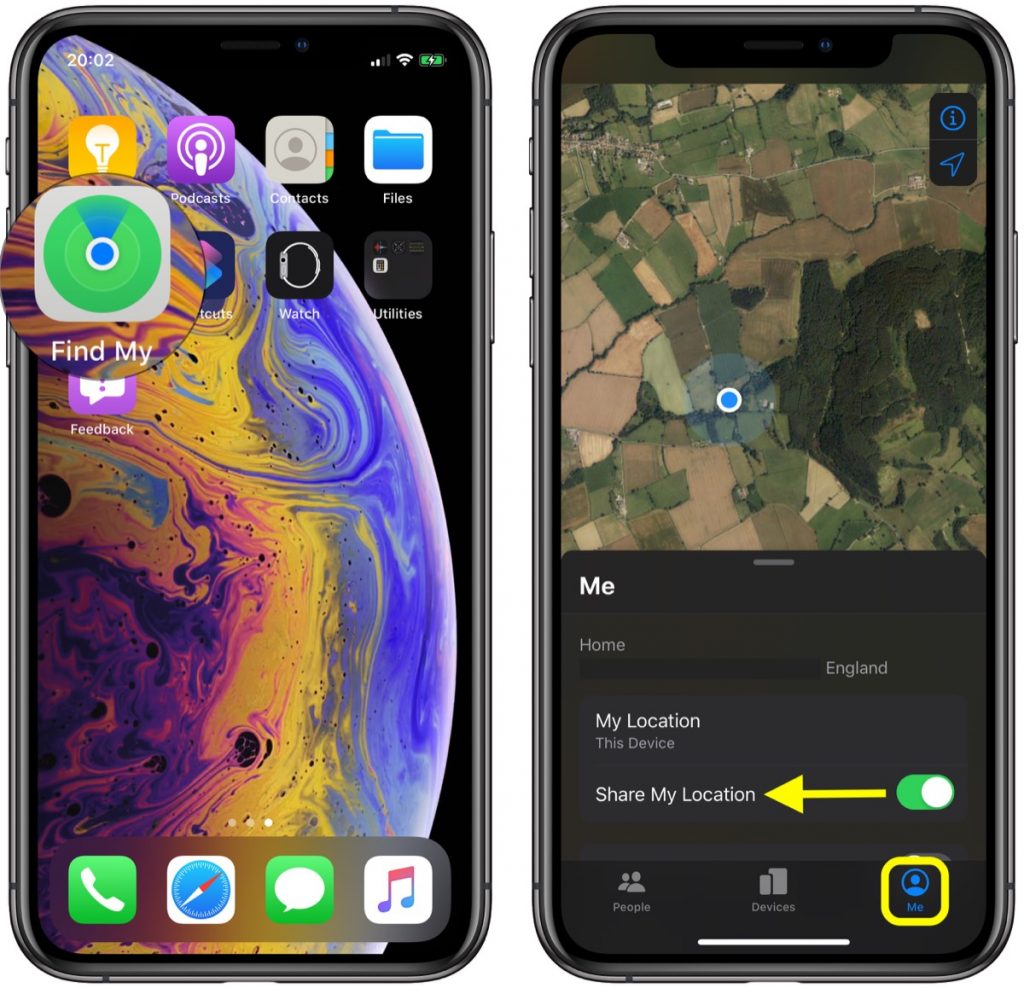 Launch the Find My app on your iPhone or iPad. (The Find My app is available by default on all new iOS devices).
Tap the Me tab if it's not already selected.
Tap the toggle switch next to Share My Location to the white OFF position.
When you turn off Share My Location in Find My, the status is reflected in your iCloud settings, where you can also turn location sharing on/off.
Launch the Settings app on your device, tap your Apple ID banner at the top, then tap Find My, and you'll see the Share My Location toggle switch. You can also find the switch in Settings -> Privacy -> Location Services -> Share My Location.
If none of the above work – leave your details of your lost/stolen phone in the comment section below (your phone number, the location you've lost at it, and phone model) and maybe some of our visitors might be able to be of help.