Are you feeling a growing distance between you and your spouse? Have you noticed them guarding their phone more closely, or perhaps a change in their behavior that leaves you feeling uneasy?
You're not alone, and your concerns are valid.
In a world where trust is paramount, even a shadow of doubt can cast a pall over a relationship. But what if you could find answers without confrontation? What if you could regain control and peace of mind?
Technology now offers a solution you may not have considered: free spy apps designed to track potentially unfaithful activities on your partner's phone.
This isn't just about catching a cheating spouse; it's about understanding, healing, and moving forward.
In this article, you'll discover the best free apps to provide insights into calls, messages, and physical locations.
Whether you need to confirm or dispel your fears, the apps we share in this article can help.
Read on and take the first step toward clarity and trust.
Discovering Spy Apps
Spy apps are designed to monitor and record actions on a target device, offering a window into the virtual world of someone you wish to keep an eye on.
How They Work
Spy apps function discreetly, operating silently in the background. They gather data from sources, such as phone calls, messages, and locations, and relay this information to a secure online portal where you can review it.
Imagine having a virtual detective at your fingertips, providing insights from a target phone without detection.
How to Install Them
The installation of a spy app is usually simple and user-friendly. You'll need brief physical access to the target device to download and install the software.
Some apps may require adjustments to security settings, but once installed, their presence can be concealed, leaving no visible trace.
Sounds complicated?
Don't worry: Every phone spy app will welcome you with an email explaining its installation process step by step. Some of the best spy apps will also offer real-time assistance during installation.
What Can Spy Apps Do for You?
The capabilities of spy apps extend far beyond basic GPS location tracking. Here's an exploration of their multifaceted functions:
Call and Message Monitoring: Access detailed incoming and outgoing calls and text messages (even deleted messages), including those on social media platforms.
GPS Location Tracking: Receive real-time GPS tracking updates on the device's location and historical movement data.
Social Media Monitoring: Monitor interactions on Facebook, WhatsApp, Instagram, and even those dating apps.
Email Oversight: Read sent and received emails, including attachments and contact information.
Browser History Analysis: View any web browser history, bookmarks, and even searches made in Incognito Mode.
Multimedia Files Access: See photos, videos, and other media files stored on the target device.
Keylogger Functionality: Record every keystroke on the target device, capturing passwords and search queries.
Remote Control Capabilities: Some apps allow remote control actions. Taking pictures, recording phone calls and audio, or blocking specific apps is possible.
Incoming and Outgoing Data: Monitor all data transmitted to and from the device, including file transfers.
Phone Call Recording: Listen to recorded phone calls, providing a deeper understanding of conversations.
Screen Recorder: Capture real-time screen activity to see exactly what is being viewed or typed.
Stealth Mode: Operate in complete secrecy, with the app remaining undetectable on the target device.
If you want to learn more about this and several other functions phone spy apps offer, read our article, "All You Need to Know about Cell Phone Tracking."
Deciding which spy app to choose may be complicated since there are way too many out there with different tools and compatibilities.
Also, some of them may be pricy. That's why we've made a list of free apps to spy on cheating spouse with our own personal evaluation of each of them.
SpyZee
SpyZee is a versatile and user-friendly phone tracker app designed to provide comprehensive monitoring of a target device. It offers a wide array of features that cater to both novice and advanced users.
Functions: Call and message monitoring, location tracking, social media surveillance, incoming and outgoing data, phone call recording, screen recorder, stealth mode.
Pros: User-friendly interface, comprehensive tracking features, stealth mode for undetectable operation.
Cons: Limited support for some social media platforms, occasional lag in data updates.
Compatibility: Android devices and iOS (no jailbreak required for basic functions, jailbreak needed for advanced features).
Evaluation: A solid choice for those seeking a wide range of features without a price tag. Ideal for social media monitoring and communications.
Best Fit: Suitable for individuals concerned about a partner's whereabouts or for working as parental control app to check on their children's online behavior.
Highster Mobile Free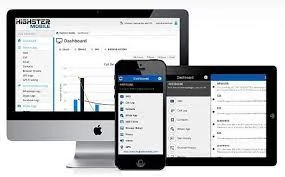 Highster Mobile Free is a powerful spy app focused on providing robust email tracking and basic monitoring functions. It's a strong option for those who prioritize email surveillance and need stealth mode operation.
Functions: Call logs, multimedia access, email oversight, browser history analysis, keylogger functionality, incoming or outgoing data, phone call recording, stealth mode.
Pros: Robust email tracking, easy installation, stealth operation.
Cons: Limited compatibility with some Android versions, no screen recorder.
Compatibility: Android device (root required for some functions) and iOS devices (jailbreak needed for advanced features).
Evaluation: A strong option for email monitoring and basic GPS tracking, but lacks some advanced features.
Best Fit: Ideal for those focused on email surveillance, such as business owners monitoring company devices or cheating spouse exchanging messages through any dating app.
mSpy Free Trial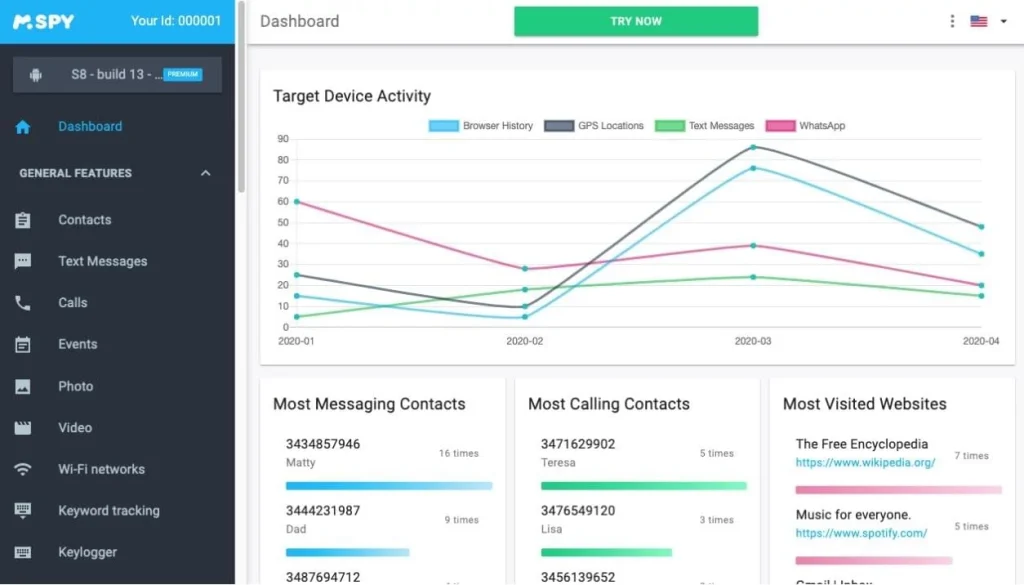 mSpy is a spy app that offers a comprehensive suite of monitoring tools, with a free trial version that allows users to explore its capabilities. It's known for real-time tracking and extensive social media monitoring for target iOS or Android device.
Functions: GPS tracking, social media apps monitoring, multimedia files access, keylogger, incoming and outgoing calls and data, phone call recording, screen recorder, stealth mode.
Pros: Comprehensive social media messages tracking, real-time tracking updates, user-friendly interface.
Cons: Trial version limitations, jailbreak or root required for full functionality.
Compatibility: Android (root required) and iOS (jailbreak needed) for advanced features.
Evaluation: Offers a wide array of features, but the free trial version may have limitations. Excellent for real-time tracking.
Best Fit: Suitable for those seeking a temporary solution with comprehensive monitoring features, great for suspicious spouses or concerned parents.
FlexiSPY Free Trial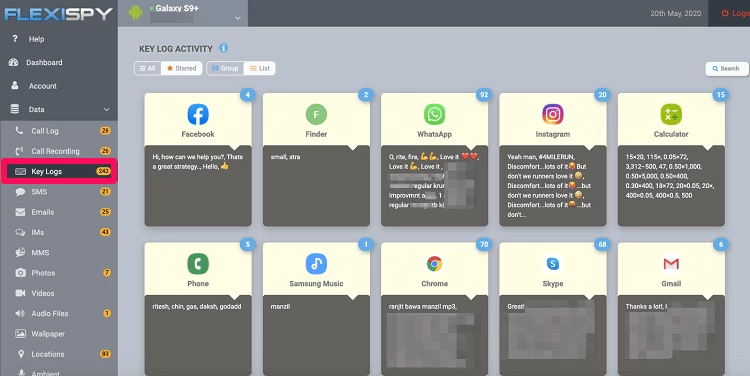 FlexiSPY offers a free app trial of its renowned cell phone tracker software, known for its advanced features and flexibility. It's a popular choice among those seeking professional-grade monitoring without the initial cost.
Functions: Call monitoring and message tracking, location tracking, social media messages surveillance, email oversight, incoming and outgoing calls and data, stealth mode.
Pros: Advanced GPS location tracking features, reliable performance, user-friendly interface, supports multiple devices.
Cons: Trial version limitations, may require jailbreak or root for full functionality.
Compatibility: Android devices (root required for some functions) and iOS (jailbreak needed for advanced features).
Evaluation: A powerful option for those seeking professional-grade features in a free trial. Excellent for in-depth monitoring of multiple devices at once.
Best Fit: Ideal for individuals who need advanced tracking for a short period, such as employers monitoring employee compliance or looking for confirmation on something going on your spouse's phone.
KidLogger Free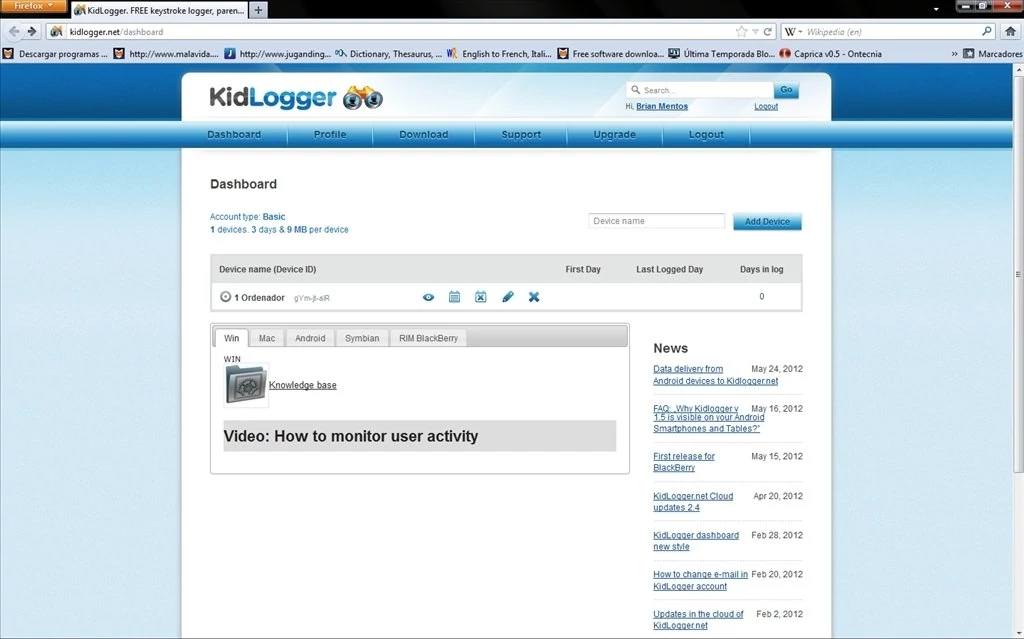 KidLogger Free is a free spy app designed with parental control in mind, offering a range of monitoring features to remotely control children's online activities. It's a user-friendly option for parents seeking peace of mind.
Functions: Call logs, location tracking, browsing history analysis, multimedia files access, incoming and outgoing calls and data, phone call recording, invisible mode.
Pros: Easy to use, specifically designed for parental monitoring, no need for jailbreak or root for basic features.
Cons: Limited social media tracking, no screen recording, basic interface.
Compatibility: Android phone, iPhone devices, Windows, and macOS (no jailbreak or root required for basic features).
Evaluation: The ultimate spy app for parents seeking basic monitoring without complexity. Ideal for overseeing children's online safety.
Best Fit: Suitable for parents who want to monitor their children's target device remotely and ensure their safety without intrusive tracking.
As we've navigated the intricate landscape of free spy apps, we've uncovered tools tailored for diverse needs. We're confidente there are some perfect spouse tracker apps on this list for you.
Now, let's draw our insights together in a conclusive wrap-up.
Our Final Words
In this journey through the world of free spy apps, we've aimed to arm you with the knowledge and tools to make informed decisions in a difficult emotional scenario.
We understand the weight of the choices before you, and it's our mission to offer avenues that can alleviate your agony.
If you're still grappling with uncertainty about using such apps, we invite you to explore our comprehensive article on the Best Ways to Bust Your Cheating Spouse (Including a GPS Tracker).
Whatever path you choose, know that we're committed to guiding you toward clarity and peace of mind.
FAQ
1. Can I monitor incoming and outgoing calls using free spy apps?
Yes, most free spy apps offer the capability to remotely monitor both incoming and outgoing calls on the target device. Some even have phone call recording capabilities.
2. How accurate is GPS location tracking in these apps?
GPS location tracking can generally spot target device accurately within a few meters from its real location. However, the precision can vary depending on the quality of the spy app and the target device's location settings.
3. Are phone calls the only form of communication I can monitor?
No, most spy apps offer a comprehensive range of monitoring features, including text messages, social media interactions, and even the target device's camera.
4. Are these spy apps compatible with both Android and iOS mobile devices?
Most spy apps are compatible with both Android phones and iOS devices. However, some advanced features like phone call recording may require rooting or jailbreaking on target device.
5. Is it legal to use spy apps for monitoring someone else's device?
The legality of using spy apps varies by jurisdiction and intent. It's crucial to research and understand the laws in your area to determine if using a phone spy app is legal.